Say bye bye to sugar
Regular price
Sale price
Rs. 199
Unit price
per
Sale
Sold out
🚚 Estimated delivery between
View full details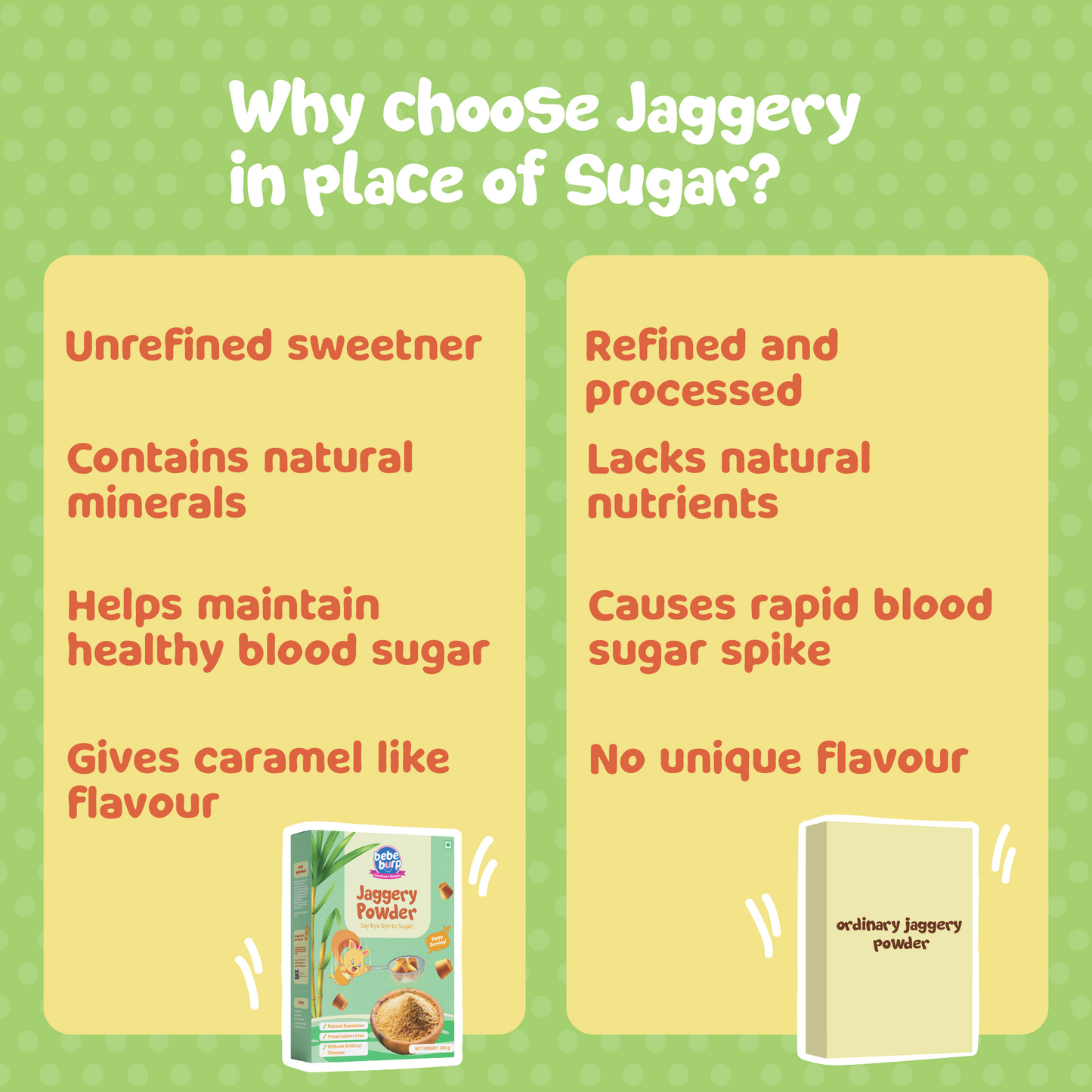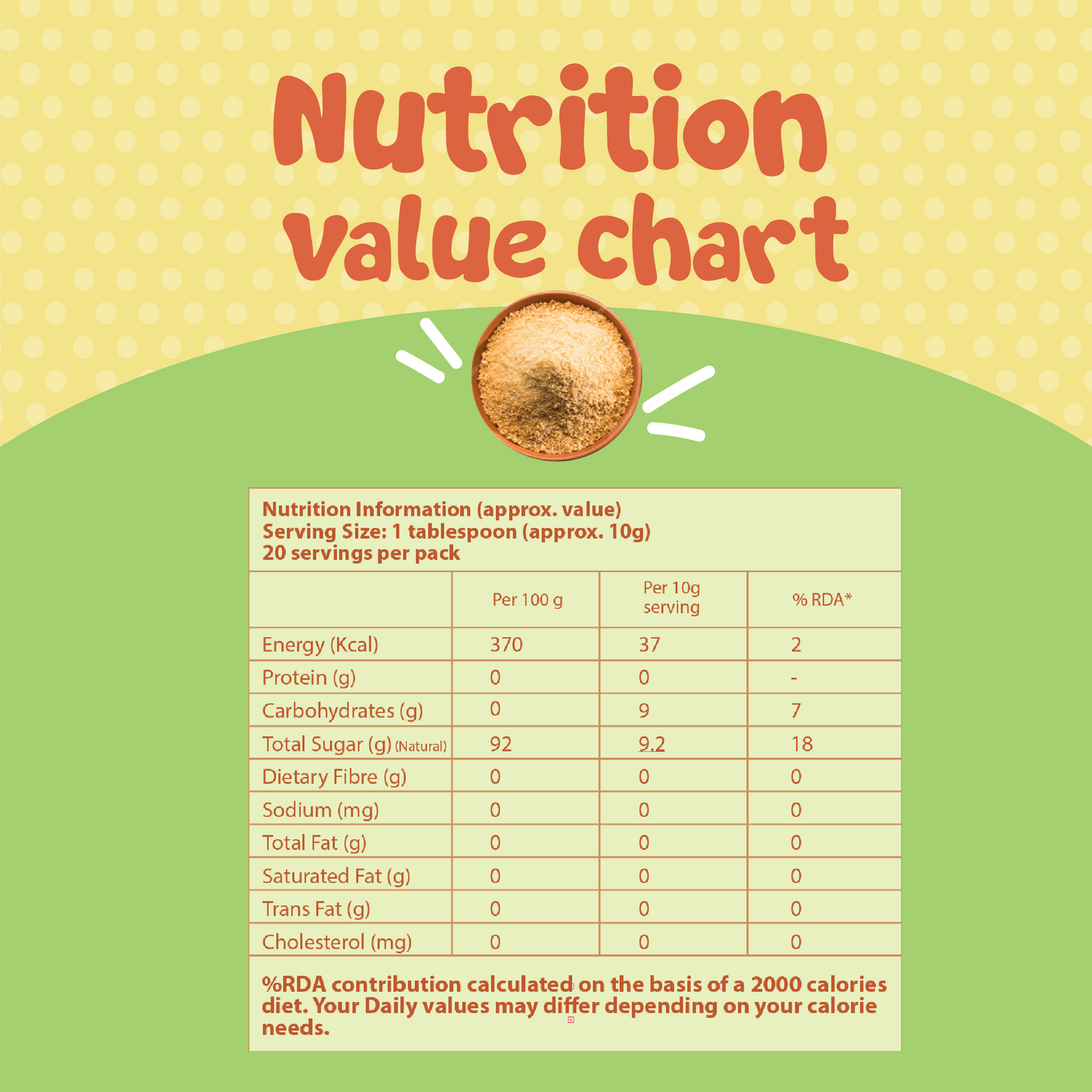 100% Millet Made, 100% Natural , Traditional Grandma's Recipe , No Preservatives , No Artificial Flavours, Tasty & Yummy, Trusted by More Than 80000 Mothers
100% Millet Made, 100% Natural , Traditional Grandma's Recipe , No Preservatives , No Artificial Flavours, Tasty & Yummy, Trusted by More Than 80000 Mothers
Collapsible content
Ingredients

100% Natural Jaggery in powdered form
How To Use

Sweeten Your Sips: Stir a spoonful of Jaggery Powder into your daily beverage and your child's cup of milk for a natural punch of sweetness.

Baking Buddy: Swap out regular sugar with our all-natural Jaggery Powder to create guilt-free bakes that you and your munchkin can dig into together.

Healthy Recipes: Add a touch of Jaggery Powder to your homemade granola, oatmeal, or smoothie bowls for an earthy, caramel-like flavor.


Benefits

A natural sweetener rich in essential nutrients such as iron, calcium, potassium, and various vitamins, perfect for your child's growth and development.
Jaggery is a complex carbohydrate that lets your little one enjoy the sweetness without the sugar rush, maintaining stable energy levels all day.
A boon for digestion, it helps alleviate common digestive issues in children, such as constipation and indigestion.
Jaggery comes packed with antioxidants and minerals that can help boost your child's immune system, keeping them strong through the flu seasons.

FAQ

Can I use it as a sugar substitute in my child's recipes?
You sure can! Swap out sugar for jaggery powder in recipes for a natural sweetness with added nutritional benefits. Start with a 1:1 ratio and adjust to taste.

Will jaggery powder give my child a sugar rush?
Nope, not like refined sugar. Jaggery's natural sweetness is digested slowly, providing a steady energy release without those sugar highs and crashes.

Can kids with food allergies safely consume jaggery powder?
Jaggery is generally safe, but as with any new food, be cautious if your child has allergies. Start with small amounts and monitor for any adverse reactions.

How can I use jaggery powder in my child's diet?
Get creative! Use it in teas, desserts, oatmeal, and even as a sweetener in homemade snacks. Jaggery powder adds an irresistible caramel flavor to many dishes.

Is jaggery powder a better option than regular sugar for kids?
Yes, it can be considered a better option because it's less processed and retains more of its natural nutrients. Just remember, moderation is key.

Can I use jaggery powder for my baby or toddler's food?
Yes, you can use it in moderation. Just be mindful of portion sizes for little ones, as their dietary needs differ from older kids and adults.